CHARITY ORGANISATION
Hornsby Ku-ring-gai Women's Shelter
I've been working with HKWS for 5 years and, originally came on board to help them with management and maintenance of their original website.
I re-designed and rebuilt the Hornsby Ku-ring-gai Women's Shelter site early in 2022 and, it is still based on the WordPress platform using the Divi Theme/Page Builder.
About HKWS
HKWS is a registered charity which offers emergency accommodation to women and families who are subject to domestic violence and other forms of abuse.
Platform: WordPress
Bed 'N' BREAKFAST
The Retreat At Amryhouse
The Owners of this lovely Bed and Breakfast in the Macedon Ranges in Victoria, Australia, approached me with some simple fixes for their existing site, but after an investigation and some discussion, they decided to forge ahead with a re-think, a re-design and a rebuild in order to achieve a more professional look and functionality!
The Retreat At Amryhouse website was re-imagined by me, with lots of input from the Owners. I rebuilt the site based on the WordPress platfrom and substituted a very basic theme with "Kadence" and, a host of plugins related to the styling and operation of the site.
About The Retreat At Amryhouse
Located in the heart of Ashbourne, 'The Retreat' at Amryhouse is a self contained, beautifully appointed, luxury Victorian Miners Cottage, built to capture the style of yesteryear. It offers private Bed and Breakfast accommodation for two people in the heart of the beautiful Macedon Ranges.
Platform: WordPress
CHARITY e-CARDS
Women's Community Shelters eCards
I have been working with Women's Community Shelters for almost 5 years, at first maintaining their original WordPress website, which has since undergone an update and, prior to last Christmas, developing and building their eCard site.
The eCards system allows visitors to make a donation to the shelter organisation on behalf of a loved one, while simultaneously sending that recipient an email-delivered card (eCard). The cards can be for special occasions such as a Birthday or, simply as a thank you. The site has seasonal cards which are rotated at various times throughout the year, celebrating Mother's and Father's Days, as well as Easter and Christmas. PayPal is the integrated payment method for the eCards.
About WCS
Women's Community Shelters works with communities to establish new shelters, which provide short term emergency accommodation and support in a safe environment that enables homeless women to rebuild self-esteem and achieve control and fulfilment of their lives. The eCard site allows the organisation to collect donations with a difference!
Platform: WordPress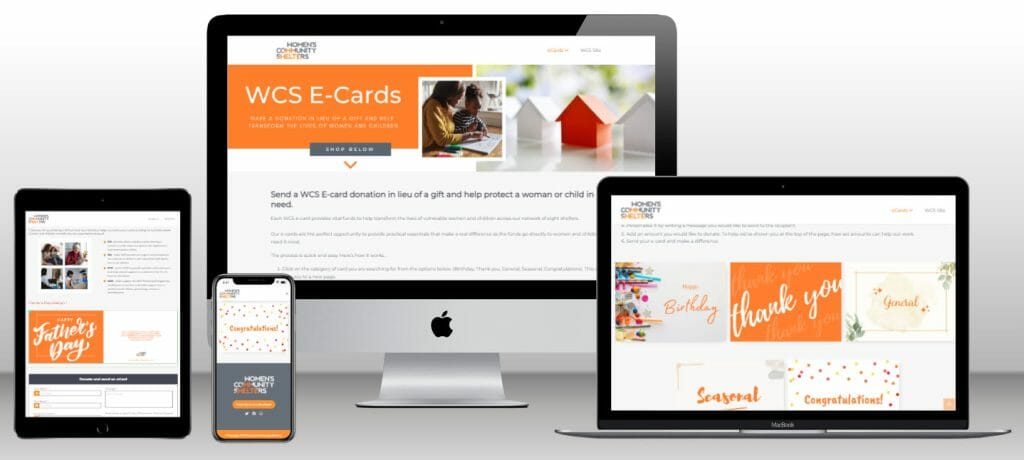 ONLINE BAMBOO NURSERY
Bamboo Creations Nursery Victoria
The Owners of the Nursery approached me after I purchased some plants for my garden, as they knew I was a Riddells Creek local, in fact just around the corner from them and their amazing Bamboo Nursery!!
Their old website was looking a bit tired, even though it was still functioning well, but they wanted to add features and give it all a bit of a spruce-up. So began a long journey to arrive at an all-new website, built on the flexible and reliable WordPress platform, with an online store selling Bamboo Plants and Bamboo Clothing, the clothing being dropshipped from a manufacturer in Queensland.
About BCV
Bamboo Creations is the largest Bamboo Nursery in Victoria, with over 45 species of Bamboo Plants, including Ornamental and Running Bamboos, as well as Rare Species.
Platform: WordPress
COMMUNITY ENGAGEMENT BLOG
Brunswick Daily
Brunswick Daily is the brainchild of a couple of outgoing Entrepreneurs, who launched their project in the depths of the COVID Lockdowns in Victoria.
The website is a Community Blog, designed to inform, engage, entertain and, promote all things Brunswick. It consists of a regular blog with articles on various topics, targeted advertising controlled by the convenors and an events platform.
About Brunswick Daily
"Brunswick Daily is about community, collaboration, and making things happen. We love spending time with local people to learn and understand their stories because we believe hearing others is a primary source of inspiration".
Platform: WordPress
SPORTING CLUB
Corio SC
Corio SC is the online home of the Corio Soccer Club, a community-based sporting club near Geelong, Victoria.
The website is a platform that allows for the regular updating of match fixtures, results and team ladders, along with information about club events and happenings. The site is linked directly to the club's social media feeds, which update automatically and immediately.
About Corio SC
Corio SC is devoted to fostering and providing a high quality soccer environment in order to give all the players, coaches, referees and managers every opportunity to enjoy the game of soccer and to help them achieve their maximum potential as participants in this sport, while at all times promoting a sense of fair play.
Platform: WordPress
SPIRITUALIST MEDIUM
Karen Wood
Karen Wood is a Spiritualist Medium based in the UK, who did not have an online presence, except through Social Media, and wanted to take her brand further by creating a website that would allow her to promote her business.
Karen's site allows her to promote events, classes and one-on-one readings, either in person or via Zoom. She connects with online Clients via a link to the Acuity platform, which allows scheduling of appointments.
About Karen Wood
Karen concentrates on her passion, working as a medium either taking divine services, giving demonstrations of mediumship and private sittings or, passing on her knowledge through teaching.
Platform: WordPress
Note – THIS WEBSITE WAS RECENTLY REBUILT
More Client sites are being added as time allows – please check back soon to see the rest of my portfolio highlights!